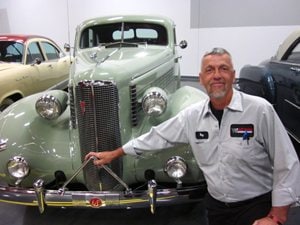 With thirty plus years of automotive service experience, Roy Kidd has had a lifelong interest in anything mechanical, in fact his mother remembers him as a boy always taking things apart and putting them back together again. Roy completed training in automotive mechanics following high school, and began his career at a local car dealership, before joining the Jeff Wyler family 27 years ago. With experience working on cars of all types and ages, Roy brings a level of expertise that ensures the Wyler Collection receives the best care and maintenance possible.
As Chief Mechanic, Roy's responsibilities include maintaining and inspecting each of the Wyler Collection vehicles on a regular basis. This includes operating each of the vehicles, as many issues can only be identified with a short drive. Roy is equipped with modern tools and equipment to maintain these unique cars, but he is also quick to share that he has built a special collection of "older tools" that are relevant to properly working on each of the vehicles.

Another area of great expertise that Roy brings to the table is his ability to identify and locate the parts needed to repair these classic cars. This is often the biggest challenge of all for any classic car collector, and Roy has proven his ability to accomplish this difficult task.

While the responsibilities of being the Chief Mechanic of some of the greatest cars in American motoring history is great, Roy feels great reward in the trust given to him by the Jeff Wyler Family to keep these vehicles in first class condition.